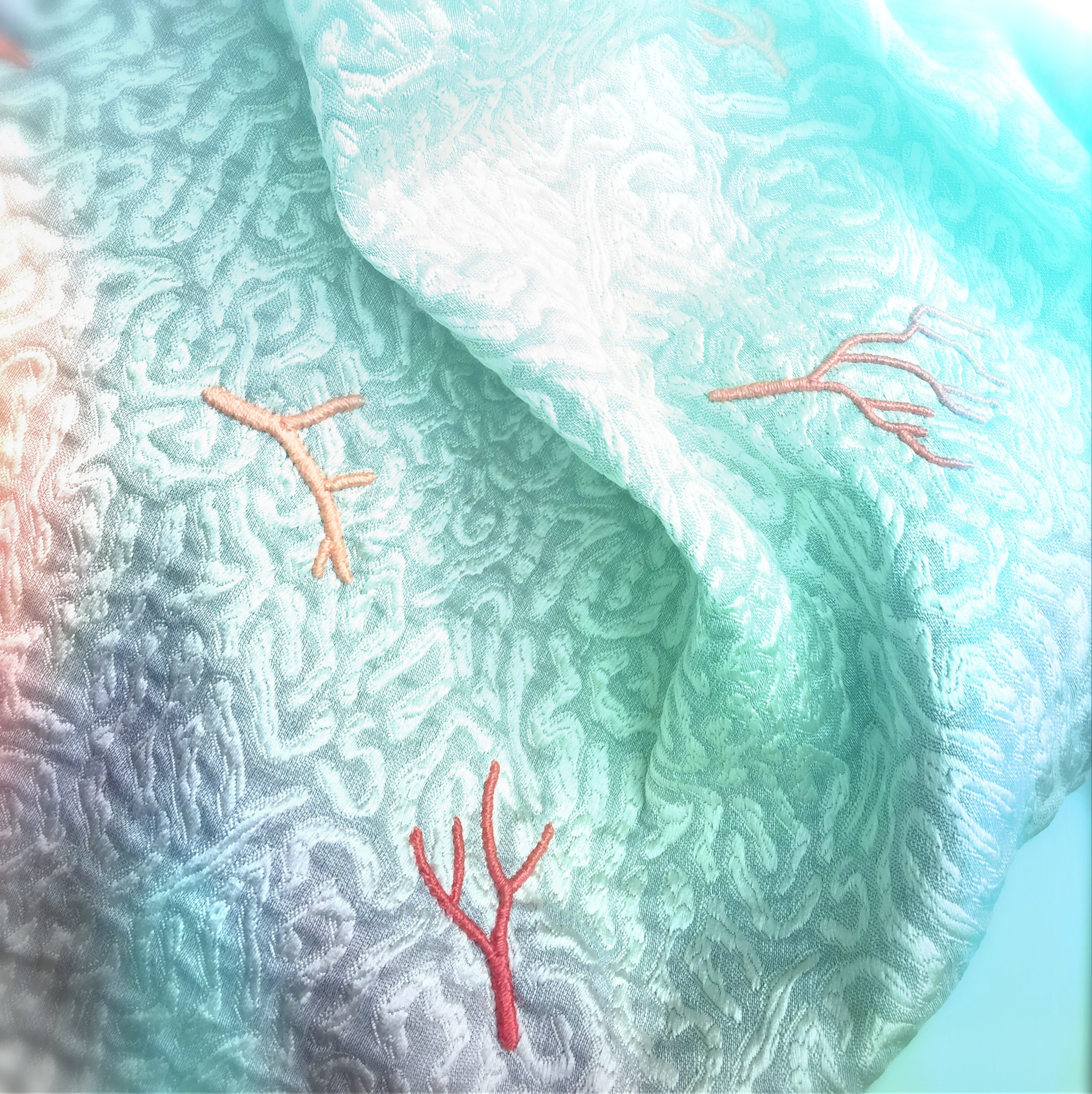 Shop
sold out
'Under the Sea'
Hand embroidered
silk & cashmere cover
Under the sea hand embroidered silk and cashmere cover
The front of the 'Under the Sea' hand embroidered cover is 100% silk Jacquard, and hand embroidered with a selection of three coral tones and silver silk thread in satin stitch. The silver silk Jacquard is framed by a border of black cashmere. The back of this unique piece is a black heavy 100% pure glossy cashmere! Soft, warm and classic.
Drift off to sleep in a world under the sea, to the gentle caress of relaxing dreams. Tones of coral and silver make up this panoply of sea creatures, each one unique, and waiting to take you on a voyage of discovery.
On a silvery silk Jacquard background, the hand embroidery of the Under the Sea cover/throw is a subtle yet eye-catching addition to an interior design scheme. Three tones of coral colour and one of silver silk have been used in the hand embroidery of the many pieces of coral strewn across the 'brain coral' background. Evocative of the tropical ocean floor, each piece of coral is unique on the Under the Sea cover/throw. Framed by and backed with black pure cashmere.
Dimensions:
Length: 170cm
Width: 130cm
This Si Je Veux item is a unique one-of-a-kind piece of hand embroidered fine-art, handmade in Richmond upon Thames, England, with great British materials.
It's presented in a hand crafted Si Je Veux storage box and carefully wrapped to ensure its safety during delivery.
Delivery within the mainland Uk is free of charge, registered and insured. Overseas delivery is registered and insured - Prices on demand.
You can commission one in a different colour or fabric, such as exquisite cashmere, linen or silk. Simply click on 'Commissioning' to start.