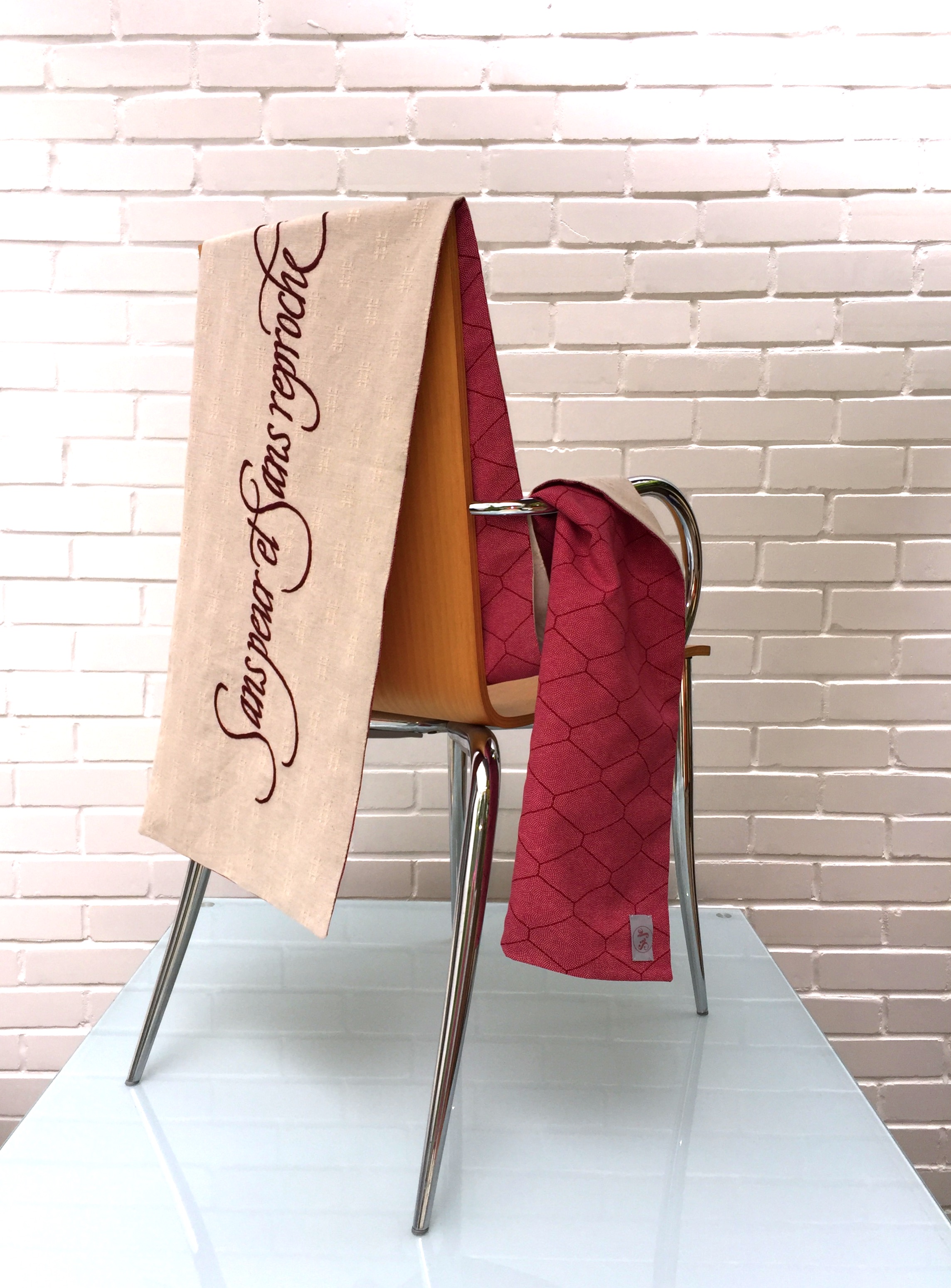 Shop
The Samurai
'Sans Peur et Sans Reproche'
Hand Embroidered Scarf
The Samurai 'San peur et sans repreoche' scarf, as seen in Schön Magazine.
See it in Schön here
The front of the Samurai 'Sans peur et sans reproche' scarf is ivory Jacquard 100% linen hand embroidered with a rich blood red 100% silk thread in satin stitch. Its back is a sanguine red silk vintage kimono fabric from Japan.

Photography duo Sandrine Dulermo and Michael Labica head west into a world of wilderness for this Schön! online editorial, styled by Laurent Dombrowicz. In the vast expanses of a western world, models Jessica Luostarinen, Amelia Callard and Olivia Morgan bring myths of the plains to life, dressed in Mulberry, Chanel and Louis Vuitton.
You can see the full feature online here
Dimensions:
Length: 193cm
Width: 30cm
Hand embroidered with this French phrase:
"Sans peur et sans reproche" which was the motto of Pierre Terrail, Chevalier de Bayard (1473 – 1524).
Be the epitome of Japanese chivalry and exactitude, 'without fear and beyond reproach' as well as wrapped up warmly in this unique hand embroidered scarf. Hand embroidered entirely in plump tactile satin stitch, the emphasis is directed to the exuberance of the expression with a voluptuously bloody red lettering, and elegant traditional kimono silk back.
You can commission one of your own, in exquisite cashmere, linen or silk. Simply click on 'Commissioning' to start.
The 'Sans peur et sans reproche' scarf is presented in a hand crafted Si Je Veux storage box and carefully wrapped to ensure its safety during delivery.
Each Si Je Veux item is a unique one-of-a-kind piece, hand embroidered and entirely handmade in Richmond upon Thames, England.
Delivery within the mainland Uk is free of charge, registered and insured. Overseas delivery is registered and insured - Prices on demand.