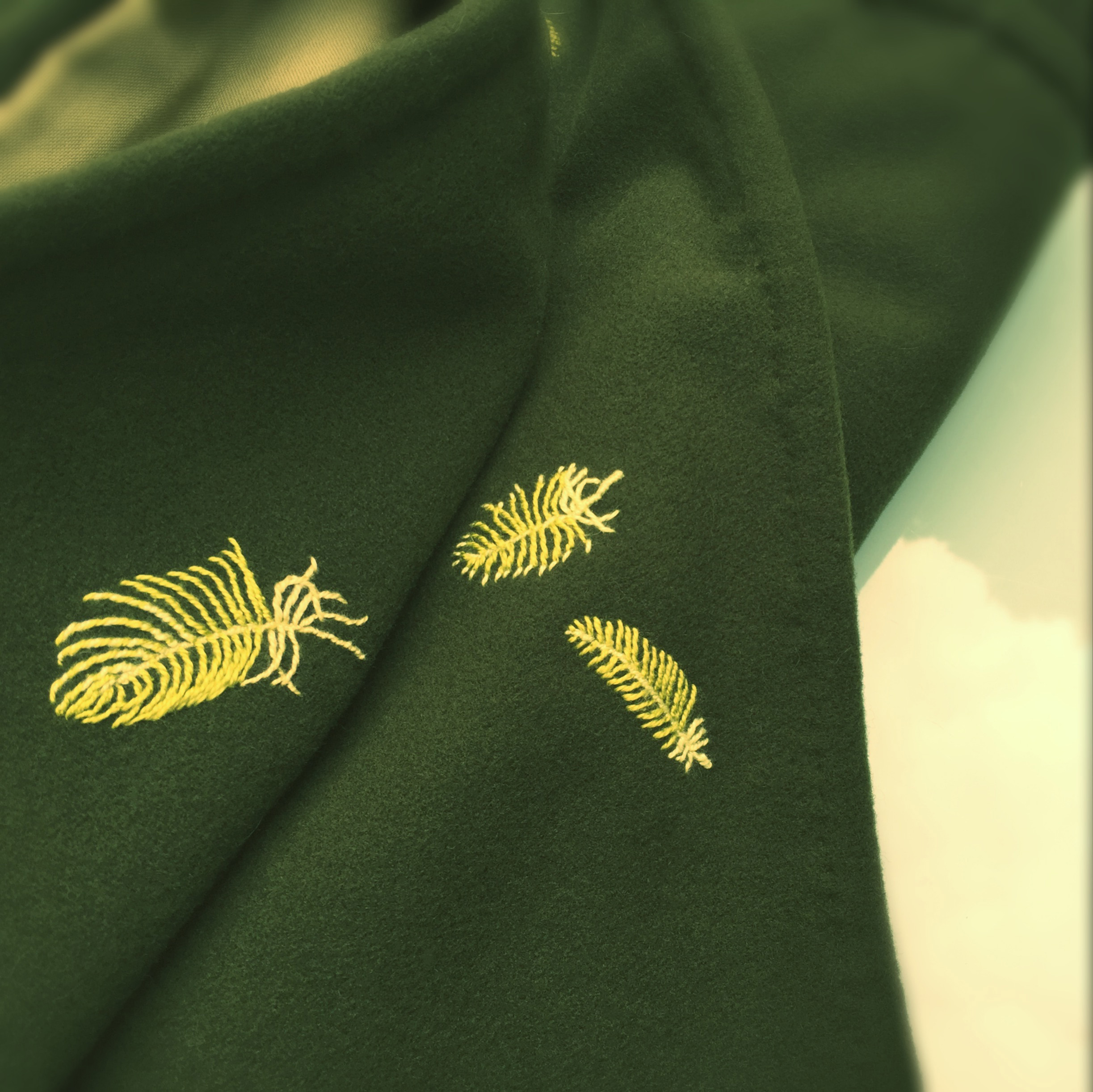 Shop
'Plumes' XL Pure Cashmere Cover
The front of the 'Plumes' hand embroidered pure cashmere cover is a Forest Green 100% Cashmere, woven in the Scottish Borders, and hand embroidered with a palette of exuberant green 100% cotton Finca threads in satin stitch. Its back is a Moss Green 100% Irish Linen, woven by John England.
Dimensions:
Length: 200cm
Width: 200cm
Each Si Je Veux item is a unique one-of-a-kind piece of fine-art, hand embroidered and entirely handmade in Richmond upon Thames, England, with great British materials.
Inspired by the nonpareil beauty of Richmond Park, this one-of-a-kind extra large pure cashmere cover is hand embroidered with a tumultuous cloud of swirling green parakeet feathers. This extra thick pure cashmere has been woven in the Scottish Borders. It invites you to nestle deep within, like secret mossy hollow, strewn with a swirling melee of green parakeet feathers. These cheerful captivating birds, though not native to Richmond-upon-Thames, have become as synonymous with this vast London Royal Park as the deer and swans.
Backed with soft pure Irish Linen from John England, in a delicate complimentary green tone, this heavy weight cashmere cover is perfect to wrap up warm with the one you love this winter. A luxurious accessory for drawing room or bedroom, travel or nesting.
The 'Plumes' Pure Cashmere Cover is presented in a hand crafted Si Je Veux storage box and carefully wrapped to ensure its safety during delivery.
Delivery within the mainland Uk is free of charge, registered and insured. Overseas delivery is registered and insured - Prices on demand.