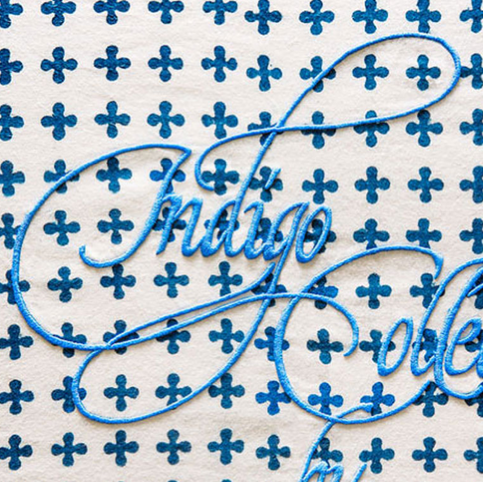 Shop
Hand embroidered logo designs
from
Quality speaks volumes about your business, logo, book cover, gift, or unique home accessory.
When quality matters have your logo or text hand embroidered in exquisite flowing typography.
The design shown is a logo for a collection of hand printed fabrics by Les Indiennes. Fabric - Petit Croix (hand block printed using natural indigo dye) by Les Indiennes
The Si Je Veux style of dramatic raised satin stitch lends itself to more flowing styles of font or hand lettering. As this is fine hand embroidery it takes time to make, and each piece is totally unique. Distinctly different from machine embroidery there is a beautiful tactile 3D feel to Si Je Veux typographic hand embroidery. This makes it ideal for logos, book cover designs, home accessories, garments and more.
Each Si Je Veux item is a unique one-of-a-kind piece, hand embroidered and entirely handmade in Richmond upon Thames, England, with great British materials.
All work is presented in a hand crafted Si Je Veux storage box and carefully wrapped to ensure its safety during delivery.
Delivery within the mainland Uk is free of charge, registered and insured. Overseas delivery is registered and insured - Prices on demand.