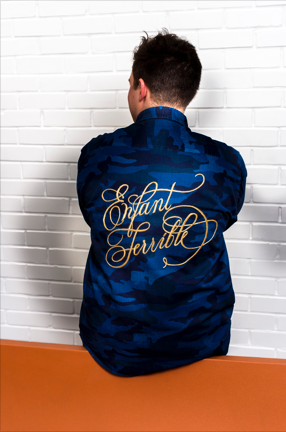 Shop
Enfant Terrible
Hand embroidered shirt
To order only from
Be an 'Enfant Terrible' at any age!
This typography with thread and needle is made using only hand embroidery in fine silk threads.
Using a shirt you already own, this one is a Tommy Hilfiger organic real indigo linen camo mens shirt - Prices from £125 dependent on length of words and materials.
The commissioned example show is hand embroidered with a quirky text in golden silk thread, on the back of an indigo camo mens shirt. Typographic hand embroidery by Si Je Veux can also be applied to waistcoats, jackets, coats and many other garments.
All commissioned work is presented in a hand crafted Si Je Veux storage box and carefully wrapped to ensure its safety during delivery.
Delivery within the mainland Uk is free of charge, registered and insured. Overseas delivery is registered and insured - Prices on demand.