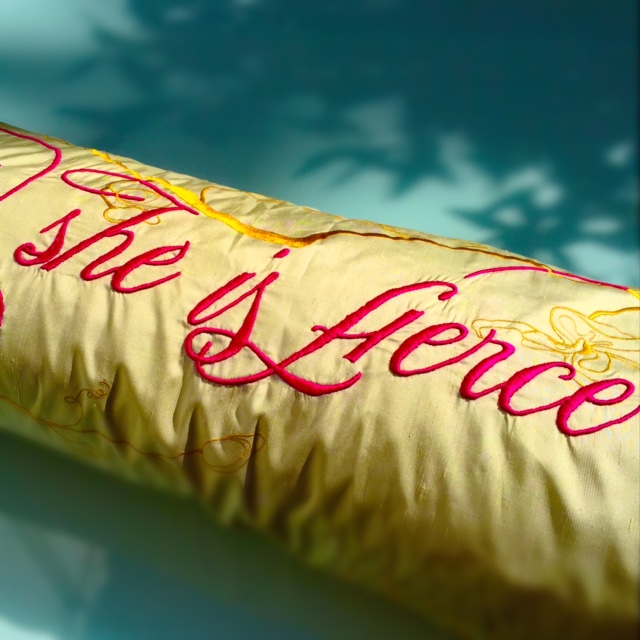 Shop
'And though she be...'
Silk Bolster
hand embroidered
'And though she be...' hand embroidered silk Bolster
The 'And though she be but little, she is fierce' hand embroidered silk bolster, has been created using soft sand coloured 100% silk embellished fabric, with a sinuous gold orchid motif. It's hand embroidered along its length with a Raspberry coloured 100% silk thread, from the Scottish Borders, in satin stitch. Its interior bolster pad is synthetic, making it just as practical as it's elegant. Add a classically Shakespearian touch in the bedroom, drawing room, or by the pool. This well known quote is taken from Shakespeare's A Midsummer Nights Dream.
Dimensions:
Length: 180cm
Width: 30cm
Each Si Je Veux item is a unique one-of-a-kind piece, hand embroidered and entirely handmade in Richmond upon Thames, England, with great British materials.
Hand embroidered with this long continuous phrase:
'And though she be but little, she is fierce'
180cm in length, this bolster is made entirely with satin stitch, requiring several weeks of intensive and very precise hand embroidery. Exuberant of expression, a voluptuous Raspberry silk lettering demands to be read. Inspired by warm summer nights.
The 'And though she be...' hand embroidered silk bolster is presented in a hand crafted Si Je Veux storage box and carefully wrapped to ensure its safety during delivery.
Delivery within the mainland Uk is free of charge, registered and insured. Overseas delivery is registered and insured - Prices on demand.